What is Breast Augmentation Surgery?
Are you dissatisfied with your breast size and desire increased fullness or projection of your breasts, especially in the cleavage area? Have your breasts lost shape and become looser after pregnancy? Do you feel larger breasts would balance your figure better? Would you like to fill out a bikini or other clothing better? Do you think that having larger breasts will enhance your self-image or give a boost to your self-confidence?
If you have any of these situations, then breast augmentation may be a good choice for you. Breast augmentation (enlargement) involves using implants, and in some cases your own fat, to increase breast size and restore volume lost following weight reduction or pregnancy.

Implants and/or fat can also be used to correct a difference in size between your two breasts, or to reconstruct breasts after a mastectomy or injury. It is important to note that breast augmentation does not correct severely drooping breasts. Significant sagging may require a breast lift, which is essentially a skin tailoring procedure, in conjunction with or instead of an enlargement.z
What to consider when planning for breast enlargement
The success and safety of your breast augmentation depends on you being completely candid during your consultation. Concerns and questions that you may have about the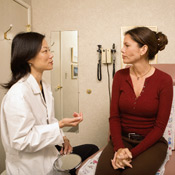 procedure will be answered during the consultation. During this visit, you will be asked about your health history, your breast health, any maternal family history of breast cancer, and your desires and goals for the procedure. This is a very personal surgery, and you should do it for yourself, not for anyone else.
You have many choices to consider when planning a breast enlargement, such as type of breast implant (saline or silicone), implant size and shape, and incision site (which will determine scar location), to name a few. At your consultation, Dr. Schwartz will discuss all of these options and make sure you can make an informed decision that is best for you.
Implant type and size will be determined before surgery, and depend on your breast anatomy, skin elasticity and body type, and, of course, your desired goal. Saline implants are filled with sterile salt water, which affects the shape, firmness and feel of the breast. If the implant leaks, it will collapse and the saline will be absorbed and naturally expelled from your body. Slight waviness of a saline implant can occasionally be felt or even seen, especially in very thin individuals. Silicone implants are filled with an elastic gel, which feels and moves more like natural breast tissue. If the implant leaks, the gel will either remain in the implant shell or will diffuse into the breast pocket. Since the patient may not be able to detect a leak of a silicone implant, visits to your plastic surgeon or certain scans may be advisable at 5-8 year internals to check implant status.
A new type of saline implant should be available in mid-2015 that has a different type of internal architecture that creates a more natural feel than traditional saline implants. Therefore, this saline implant provides about 90 % of the feel of silicone implants.
Breast Augmentation Procedure
This type of surgery is usually performed as an outpatient, and you will go home a few hours after surgery. Although most patients are asleep under general anesthesia, occasionally surgery can be performed under local anesthesia with intravenous sedation. The augmentation begins with short incisions made in an inconspicuous area to minimize visible scarring. The most common locations are in the fold under the breast or around the lower areolar border. Much less often, an incision is placed in the axilla (armpit), but there is a higher likelihood of problems with implant positioning with this incision.
Through the incision, Dr. Schwartz creates the pocket (space) for the implant and then inserts the chosen implant. The most common implant pocket location is behind the pectoral muscle. Placement under this muscle has been shown to lower the risk of developing a tight scar capsule around the implant, which could make your breasts feel too firm or look too rounded. Saline implants are filled after insertion, so they can be placed through a smaller incision. Since silicone implants are prefilled by the manufacturer, they are fuller and require placement through a longer incision.
Finally, a surgical drain is placed and the incisions are closed with precise suturing.
Breast augmentation results are immediately visible. Over time, post-surgical swelling will be reduced and the incision lines will fade. Your satisfaction will continue to grow as your body recovers.
Many factors are involved in breast augmentation recovery. However, most patients experience a post-surgical recovery period of moderate pain for 24 to 48 hours and an additional reduced-activity period of a few weeks. Soreness and swelling will likely resolve within a few weeks.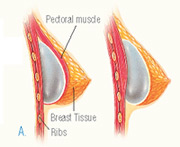 Your breast augmentation results will be long lasting. However, it is important to note that results are not permanent and may require replacement during your lifetime. Although breast implants are manufactured to high standards, they are not permanent. Studies of thousands of patients have shown that the average lifespan for a breast implant is around 15-20 years, but leakage can occur earlier or much later. Lastly, your breasts can change with aging, weight fluctuations, hormonal factors and gravity.
Request a Consultation
Choosing a surgeon you can trust may be the most important decision after determining you are ready for a breast augmentation. Dr. Schwartz is a board certified plastic surgeon and has been practicing plastic and cosmetic surgery in West Palm Beach, FL for over 25 years. He is considered one of the most prominent plastic surgeons in Palm Beach County, FL. And most importantly, he has a wealth of experience with breast augmentation.
Please call 561-232-3120 or schedule a consultation online for more information on the breast augmentation procedure.