Dramatic weight loss, whether it's obtained through changes in exercise habits, diet, or even through bariatric surgery, can leave your body with excess, sagging skin and a less than ideal body shape. Unfortunately, additional diet and exercise may still not be enough to achieve the attractive results you were looking for.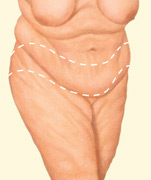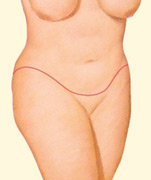 Plastic Surgery Post-Bariatric Surgery or Extreme Weight Loss
The good news is that plastic surgery, or body contouring, can help you reach your desired goals. By undergoing plastic surgery, you can re-shape your proportions and remove any sagging skin around the arms, thighs, abdomen, buttocks, and neck area. You can even elect for a breast lift or breast augmentation to further enhance your results.
Are You a Good Candidate For Body Contouring Surgery?
Before undergoing any cosmetic procedure, there are always things you should consider. Below is a list of items that can help you determine if body contouring surgery is right for you.
Has your weight remained stable for at least 6 months?
Are you expecting to lose more weight?
Are you in good overall health?
Do you have any chronic medical conditions?
Do you have a positive outlook on surgery and realistic goals?
Do you smoke?
Depending on your answers to these questions and any additional ones your surgeon may have, both you and your doctor can determine if this surgery will help you achieve the results you want.
Generally speaking, we recommend that our patients wait at least two years from the date they started their weight loss journey to the time they would like to undergo plastic surgery. This gives your body and skin a chance to shrink as much as possible while also allowing you to prepare mentally. It also gives you the proper time to adapt to a new, healthier nutrition plan as well. It is important to obtain medical clearance from your regular doctor to ensure a safe outcome.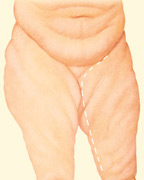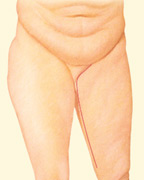 What Does Body Contouring Involve?
The great thing about body contouring surgery is that it's tailored specifically towards your problem areas. You can choose specific parts of the body to focus on or narrow it down to general areas you'd like to change.
For the most part, the following procedures are involved with post-bariatric or extreme weight loss cases:
Lower body lift: this procedure targets the buttocks, abdomen, waist, hips and outer thighs
Breast lift: depending on the amount of weight loss, excess skin may be removed and an implant may be recommended (to add firmness and shape)
Arm lift: sagging skin is smoothed and tightened to give a more youthful appearance
Thigh lift: this procedure targets either just the inner thighs or the entire thigh circumference, and is used to reshape and tighten the overall size and appearance of the thighs
Face or Neck Lift: loose, sagging skin is removed and facial tissue repositioned to create a more vibrant, healthier appearance.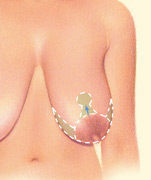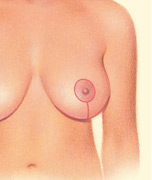 Your Next Steps
Based on your answers to some of the above questions, you might be a possible candidate for body contouring surgery and may be wondering what's next? Now that you know you are interested in a body contouring procedure, you'll want to choose a surgeon who has experience with this type of surgery and one you can trust.
Dr. Schwartz has been performing cosmetic procedures in Palm Beach County for over 25 years. As a board certified plastic surgeon, his artistry and skills will help you achieve your desired look.
Initial Consultation
It's always a good idea to come prepared for your initial consultation. We recommend preparing some questions for your surgeon as well as writing down your goals and hopes for your procedure.
This allows Dr. Schwartz to create a customized plan designed with your results in mind.
Based on the procedures you elect, your surgeon will discuss which ones can be combined in one stage and which ones need to be staged separately for your safety. Dr. Schwartz will discuss all the pertinent information about this surgery such as anesthesia, incision and scar placement, possible risks, etc.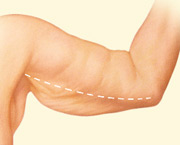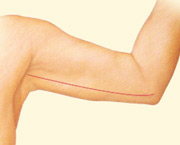 Body Contouring Procedure
On the day of surgery, Dr. Schwartz will carefully outline in marker where he will perform the surgery and which areas to target. Next, you will speak with the anesthesiologist.
Local anesthesia combined with sedation may be used for smaller areas, while general anesthesia is best for more extensive procedures.
Once surgery is completed, you'll be whisked away to the recovery room where you will be monitored and taken care of post-surgery.
Post-Surgery Recovery
Once again, your recovery will depend on how extensive your procedure is. Generally speaking, you may need to rest for at least two weeks after surgery. There are also specific instructions regarding wound care and activity restrictions. Dr. Schwartz will discuss this with you during your initial consultation and answer any questions you may have regarding your recovery period.
Request More Information or a Free Consultation
While we hope that this information has helped you decide whether plastic surgery is right for you, we strongly encourage you to schedule a complimentary consultation with Dr. Schwartz.
During your consultation, Dr. Schwartz can explain the procedure in depth and answer any questions you may have. For more information, please call 561-232-3120 or request your consultation online.